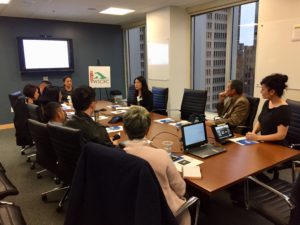 On October 31, 2018, the Washington State China Relations Council held the second session of its new Founders Forum series, featuring Hui Tian, Founder of Studio19 Architects. The WSCRC Founders Forum highlights leaders in US-China innovation in technology, entrepreneurship, and business. Participants contribute to a targeted, meaningful dialogue with a Founder/CEO working on the front lines of US-China relations. Discussions feature the trials and tribulations of starting a company, operating across cultures, and growing an international business.
Studio19 is a full-service architecture and interior design firm specializing in a wide variety of project types including mixed-use, multi-family residential, hotels/hospitality, offices, retail, and high-end custom homes. After almost 10 years of operations, Studio19 Architects encompasses a strong team of architects and designers. It has completed several extensive projects throughout the Greater Seattle area, as well as in other cities. Since founding the company almost ten years ago, Hui Tian has seen the firm take on increasingly extensive projects in the Greater Seattle Area and around the world. Speaking about shifting from an emerging architect contributing to projects at large firms to founding her own firm, Hui emphasized the importance of feeling ownership over her work.
On the topic of US-China trade relations, Hui detailed that she will continue working along international lines in upcoming projects. Given her background as a minority woman business owner in Washington state, she eloquently described the inspiration behind the founding her firm. She cited client approval and referrals as key to the growing success of Studio19 Architects. She also expressed pride in the fact that several employees at Studio19 will be celebrating their five and ten-year anniversaries with the firm.  The lively Q&A session addressed Studio19's various projects, as well as the experiences of the firm working with American and Chinese partners.
WSCRC extends special thanks Hui Tian of Studio19 Architects for furnishing refreshments.