From November 4 – 11, 2018 WSCRC and approximately 30 government and business representatives from Washington State attended the inaugural China International Import Expo in Shanghai. With more than 100 countries at the Expo, WSCRC in collaboration with the Washington State Commerce Department, Greater Seattle Partners and the following counties: Pierce, Skagit, Snohomish, and Thurston meet with Chinese government and business leaderships.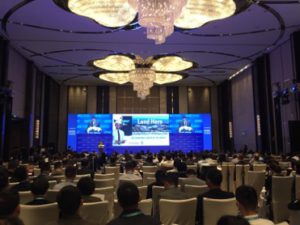 Chris Green, Assistant Director Office of Economic Development and Competitiveness, Washington State Commerce Department; Mercy Kuo, WSCRC President; Kendee Yamaguchi, Snohomish County Executive Director; Patrick Pierce, CEO, and Andrew Vuong, Director of Strategy and Industry Diversification, of Economic Alliance of Snohomish County; A Boungjaktha, Vice President of Global Engagement at Greater Seattle Partners, and Michelle Zou of Pacific Technologies Consulting Group attended the invitation-only International Aviation Supply Chain Forum, where Chris Green and Patrick Pierce were featured speakers.
Snohomish County's Paine Field and Shanghai Airport Authority signed a memorandum of cooperation on November 7, 2018 in Shanghai.
WSCRC together with the delegation met with 17 Chinese companies and seven government entities. Snohomish County in collaboration with WSCRC met with counterparts in Shanghai, Ningbo, Hangzhou, Beijing, and Tianjin.