On November 14, 2018 WSCRC organized an executive leadership session as part of the US-China Women's Leadership Forum. The session focused on "cultivating a community of leaders" led by Sue Bennett, Executive Director of Leadership Tomorrow (LT), an organization whose purpose is to cultivate, inspire, connect and engage an effective community of leaders. Sue has worked in the public, private and nonprofit sectors, and is serving or has served on the boards of the Washington Women's Foundation, Child Care Resources, Planned Parenthood, Cancer Lifeline and the Reed Coleman Family Foundation.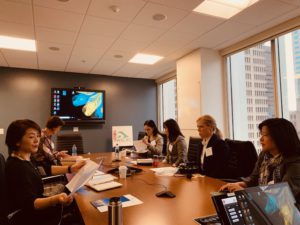 Sue spoke about the importance of "servant leadership" in cultivating collaborative, empathetic and community-based leadership approaches. WSCRC Board Directors Holly Yang and Annamarie Larson, respectively chair and vice-chair of the US-China Women's Leadership Forum helped lead the discussion.
WSCRC expresses appreciation to Sue Bennett of Leadership Tomorrow for sharing valuable insights with WSCRC members.