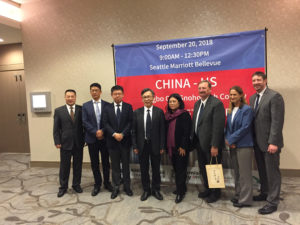 On September 20, 2018, the Washington State China Relations Council, in partnership with Snohomish County, Economic Alliance of Snohomish County, the Port of Everett, and Illuminate Global LLC, hosted a delegation from the city of Ningbo in Zhejiang Province for the China-US Ningbo City Snohomish County Trade and Investment Forum. The delegation included representatives from both government and industries in Ningbo, including automotive, information technology, and tourism.
Dave Somers, County Executive of Snohomish County, detailed the history of international exchange between the US and China that has taken place in Washington State. He elaborated upon current efforts to maintain economic and cultural ties through facilitating trade missions, delegations, and business connections. Stephanie Wright, Chair of the County Council of Snohomish County, emphasized the importance of trade and investment in the US-China relationship. She encouraged delegates to learn more about Snohomish County and the opportunities for collaboration it offers to prospective investors. Patrick Pierce, President and CEO of the Economic Alliance Snohomish County, outlined the globally recognized brands operating in Snohomish County, as well as its wealth of educational institutions.
Jianhua Xu, Deputy Director of the Ningbo Business Association, introduced the City of Ningbo, which boasts active export-oriented economy. The United States has always been an important trading partner with Ningbo, with Dow Chemical, DuPont, MSK, Cooper, John Deere, Procter & Gamble and others investing in projects in the city. Jing Shi of the International Investment Promotion Bureau of the City of Ningbo detailed how the city has accelerated its international development through leveraging its ports and private economy. Zhijun Yang of the Yinzhou District Investment Cooperation Bureau of the City of Ningbo encouraged investors to explore opportunities in Ningbo, as well as promoting its tourist attractions and educational partnerships as well.
The event brought together representatives to strengthen international ties between the US and China through trade and investment. After Mr. Somers and Mr. Xu exchanged gifts following the presentations, the gathering commenced networking and exchanging information for future partnerships. WSCRC board directors Holly Yang, Yuping Wang and Michelle Zhou also attended the event.
Summary Author: Mengyao Liu