Washington State Commerce Department and the Washington State China Relations Council jointly held a press conference to announce Washington small and midsized businesses (SMBs) to exhibit at the first-ever China International Import Expo (CIIE).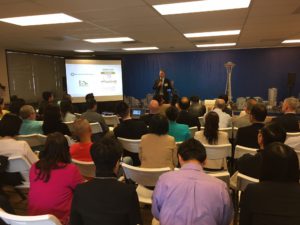 SEATTLE – June 13, 2018 – Washington State Commerce Department ("Commerce") and the Washington State China Relations Council ("WSCRC") announced on Wednesday that about 20 small and medium businesses from Washington State will exhibit at the first China International Import Expo ("CIIE") in Shanghai, November 5-10.  With the support of WSCRC and its member company Pacific Technologies Consulting Group ("PTCG"), Commerce has marketed CIIE, organized a delegation to attend, and offered the Export Voucher which assists small business owners by offsetting the cost of attending CIIE. This is the first time that Washington State has organized SMBs to attend an Expo event in China.
CIIE is slated to be the largest import trade show in China.  CIIE announced that as of June 1, 2018, over 1,300 companies from more than 120 countries and regions had already registered to attend CIIE. It is estimated that up to 150,000 professional buyers from both China and abroad will participate in the Expo.
The CIIE was announced by China's President Xi Jinping in 2017 and is hosted by the Ministry of Commerce of the People's Republic of China and Shanghai Municipal People's Government. CIIE is additionally receiving support from the World Trade Organization, the United Nations Conference on Trade and Development and the United Nations Industrial Development Organization. The Expo affirms China's resolve to display its commitment to inclusive globalization as well as its eagerness to further open its market to foreign traders.
The Washington State Commerce Department has chosen to leverage the opportunity for global exposure afforded by attendance to the CIIE. Washington businesses will exhibit together under the Commerce Department's "Choose Washington" in order to attract increased attention, traffic and awareness of the many exports the region has to offer. Together with WSCRC, and with the support of PTCG and multiple local Chinese American organizations, Commerce has led the effort to communicate the strategic potential that attendance to CIIE offers to businesses.  In order to simplify registration for attendance to CIIE, Commerce has facilitated a sign up process exclusively for WA businesses who plan to attend as part of the delegation.
The June 13 press conference was held at the Nan Hai USA office in Kirkland.  Seattle local media, CIIE event service representatives from Shanghai and WA exhibitors attended the event.  Victor Chan, WSCRC Board Director, welcomed attendees and shared a brief history of Washington's connection to China and how WSCRC has served as a bridge between Washington state and China since 1979.  Commerce Assistant Director Chris Green emphasized that Washington ranks as one of the nation's most trade-dependent states, with China is as a major market for Washington exports. Green believes that CIIE will be a great opportunity for Washington companies to make business deals and sign contracts.  Green further explained Commerce's CIIE exhibition plans and the process of offsetting attendance costs through the Export Voucher program.
Andy Cheung, CEO of Donghao International ("DHI"), co-organizer for CIIE's High-end Intelligent Equipment Show, represented CIIE at the press conference. Cheung explained the significance of CIIE, the process of attending CIIE, and tips for a successful exhibit.  Michelle Zou, WSCRC Board Director and CEO PTCG, facilitated the press conference with over 60 attendees.
About Washington State China Relations Council (WSCRC)
Founded in 1979, Washington State China Relations Council is the nation's leading statewide organization dedicated to promoting stronger commercial, educational and cultural engagement with China. http://wscrc.org/
About Pacific Technologies Consulting Group (PTCG)
PTCG is a strategic consulting firm that helps companies seize US-China opportunities and grow business in today's rapidly evolving business environment. It specializes in helping American companies enter into the China market and vice versa. http://www.ptcgconsulting.com/