On November 20, 2018 WSCRC in collaboration with the East West Center in Honolulu hosted a delegation of journalists from leading Chinese media outlets: FactWire News Agency, Hong Kong; Caijing Magazine, Beijing; Red Star News of Chengdu Economic Daily; Chongqing Daily, Chongqing; South China Morning Post, Hong Kong; Global Times (Chinese Edition), Beijing; Tencent Finance, Shanghai; and Beijing Youth Daily, Beijing. Mr. Susan Kreifel of the East West Center was the delegation coordinator.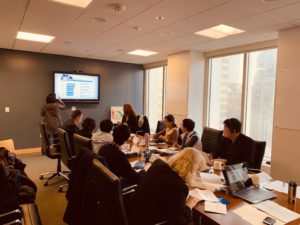 WSCRC organized a full-day program for the delegation that began with a roundtable for the delegation to discuss trade and technology relations between WA State and China with the following experts: Allison Clark, Managing Director, Office of Economic Development and Competitiveness, Washington State Department of Commerce; Carlton Vann, International Business Development Director, Office of Economic Development, City of Seattle; Tom Ranken, CEO and President of CleanTech Alliance; Sean Connell, Director of Business Development and Global Competitiveness, Economic Development Alliance of Skagit County; Patrick Pierce, CEO of Economic Alliance of Snohomish County.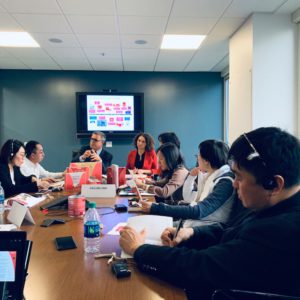 The afternoon sessions focused on China-Pacific Northwest real estate trends with Brook Burton, Chief Operating Officer and Michael Gardiner, Chief Economist, of Windermere Real Estate and Brian Hatcher, Executive Vice President, Brokerage and Holly Yang, Senior Vice President and Partner of Kidder Mathews. The delegation learned about the producers of Almond Roca, Brown & Haley, a leading mid-size company with growing market presence in China from John Melin, Chief Operating Office and President and Karina Kellogg, Regional Manager – Greater China of Brown & Haley.
Thank you to WSCRC member companies – Windermere, Kidder Mathews, and Brown & Haley – for hosting the Chinese media delegation.