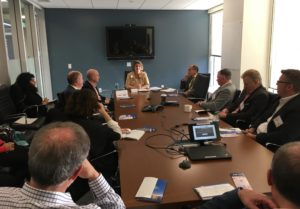 On October 16, 2017, WSCRC joined the AJC Asia Pacific Institute to welcome Dr. Samantha Ravich to an invitation-only discussion on cybersecurity at WSCRC in Seattle. Dr. Ravich, Principal Investigator for the Project on Cyber-Enabled Economic Warfare and former Deputy National Security Advisor in the Office of Vice President Cheney, shared her perspectives on growing security challenges of cyber-enabled economic warfare.
Based on extensive knowledge and experience in the field, Dr. Ravich elucidated the multi-dimensional nature of the motives behind cyber-attacks and the relationship between the US economic and military strength. Dr. Ravich detailed how cyber-attacks pose an imminent danger to critical US industries including banking, infrastructure, intellectual property, and intelligence, which underpin the economy and fund US powerful military.
While the US and China are often seen as being at odds in the terms of cybersecurity, Dr. Ravich pointed out that in fact it is in the best interest of both parties to work together on this front, especially in consideration of the interdependence of the two economies. Additionally, Dr. Ravich discussed the potential role that Israel, a global leader in cybersecurity, could play as the third corner of the US-China-Israel triangle, in leading the conversation on cybersecurity and attacks and defining global security norms.
Special thanks to the AJC for co-organizing with WSCRC and to Dr. Samantha Ravich for participating in this informative, invite-only briefing.
Summary author: Trudy Boothman