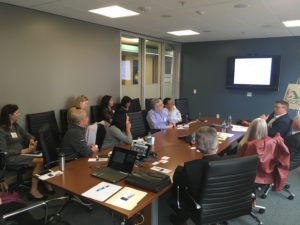 On May 17, 2018, the Washington State China Relations Council convened a session of the Corporate Executive Briefing Series with panel discussion, "Cross-Border Talent Management and Recruiting: Outlook on China and Asia." The panel featured executive search experts William Reffett and Thomas Young of Reffett Associates, and Catherine Pierce and John Hagen of Washington Search Partners.
Reffett Associates and Washington Search Partners, both WSCRC members, shared seasoned insights into effective cross-border executive search and placement. Reffett Associates, founded in 1994, has an impeccable record of successfully placing top executives across industries and around the world. Regarding Reffett's approach to international executive search, Director of Operations Tom Young explained, "our model is, 'we don't try to be the expert, but we find out who the expert is and let them do their thing.'" This model has led Reffett to work closely with partners such as Agilium Worldwide and Chelsea Partners, whose specialties in in placing senior level executives in Asia complement Reffett's experience in Stateside search.
Catherine Pierce, who spent a significant part of her career working on the ground in Asia, channeled her knowledge and experience into the field of executive search, co-founding Washington Search Partners in 2009. "I do search like I run business. It's really simple when you look at it like that," Catherine explained. She and WA Search Partners president John Hagen have a reputation for locating and placing women leaders in key executive positions. Catherine expressed her confidence that no matter how specific the parameters of a client, there is a qualified person for every position.
John Hagen added that a client can expand their network by partnering with a recruiting firm. The partnership also helps avoid the pitfall of exclusively hiring from within one's own field, which in Hagen's view puts a company at risk of stymying innovation. William Reffett concurred, noting that, "when you exhaust your personal network, you turn to us."
Both firms strongly emphasized the significance of building a trust relationship with clients. "Recruiters are a bridge between cultures," Young remarked, which makes it essential that the firm have a cultivated understanding of cultures on both sides of the border. This allows the firm to preempt the challenges that the new executive will face on the job and in their daily life as a local national, a US expatriate, or a foreign expatriate. Grasping the subtleties of client company culture, cross-cultural relations and candidate needs has translated to high retention rates for executives placed by both Reffett Associates and Washington Search Partners.
Summary Author: Trudy Boothman