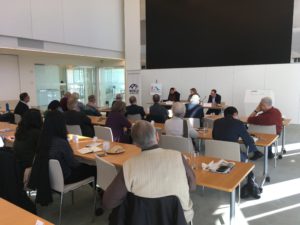 On October 27, 2017, WSCRC partnered with the World Affairs Council for a panel discussion at K&L Gates Law Firm in Seattle. Mercy Kuo, WSCRC President, and James Green, Minister Counselor to the United States Trade Representative and trade policy advisor to the U.S. Ambassador in Beijing, engaged in a lively discussion moderated by Jackie Miller, president of the WAC.
Dr. Kuo and Mr. Green outlined their respective views on areas of progress and uncertainty in current US-China relations, providing all in attendance with a better-informed sense of where relations stand and where they are heading.
Mr. Green discussed interactions between China's state-capitalist model and WTO market expectations, and identified sectors of the US economy which are most likely to become embroiled in controversy over the definition of "unfair trade practices." He continued by addressing the pros and cons of the Trump administration's plan to favor bilateral trade negotiations over multilateral agreements. He advised that the US examine its historic commitment to free trade and to rally its market allies to ensure the advancement of fair and sustainable trade models.
Dr. Kuo unpacked motives behind China's ambitious Belt and Road Initiative, linking it to the Party's priorities coming out of the 19th National Party Congress. In a semantic analysis of 19th versus 18th National Party Congress speeches, Dr. Kuo found that mentions of "state," "military," and "party" increased, while mentions of "reform" decreased. In terms of rhetoric, these items are likely to be prioritized in the new era of Chinese hegemony which President Xi plans to usher in. Moreover, she explained implementation of BRI projects will reflect China's objective to play a more prominent leadership role in the region.
Following the panel conversation, the audience guided the discussion with a host of thought-provoking questions regarding one of the world's most prominent bilateral relationships.
Special thanks to the World Affairs Council for co-hosting this event, and to K&L Gates for providing the venue.
Summary author: Trudy Boothman