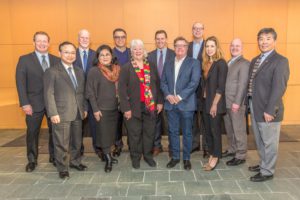 On March 1, 2018, WSCRC partnered with the Japan America Society of the State of Washington and the Northwest Seaport Alliance to convene an expert panel for a conversation on, "US-China-Japan Trade Relations in the New World Order" at the Port of Seattle.
In opening remarks, Consul General of Japan in Seattle Yoichiro Yamada emphasized the historical role of the US in promoting free trade and his hope that this commitment will continue to shape US policy. Nor Coquillard, former president of Cargill Japan and Cargill China, noted that the US' lack of clear strategy in the agricultural sector puts states like Washington at a disadvantage. Despite being China's primary import source for agriculture products, US leverage in this sector is limited as other countries such as Chile and Australia have been promoting their goods through Free Trade Agreements.
Brown & Haley president and COO John Melin shed light on the practical approach which has led to the success of this small-midsized company which now exports 40% of its output, which includes Almond Roca. Brown & Haley, a Tacoma-based company and WSCRC member, has strategically focused effort on the Chinese market, particularly in e-commerce. "Washington State has a remarkable brand in Asia. We need to take ownership over this collective brand, wear it on our sleeve and reinforce it," Melin encouraged, "It's a lot easier to gain ground in a market that's growing, and China offers huge opportunities."
Tom Robertson, Vice President and Deputy General Counsel for Microsoft, discussed the importance of having proper representation from all sizes of companies when policy rules are being made and trade precedents are being determined. In Robertson's opinion, privacy, cybersecurity, and intellectual property are areas where trade disciplines need to be modernized. Robertson concurred with WCIT president Lori Otto-Punke that educating local and state officials in trade policy is vitally important.
Port commissioners Ryan Calkins and Clare Petrich reaffirmed their commitment to advocating free and fair trade with China and Japan.
Special thanks to the Port of Seattle for hosting the event.
Summary author: Trudy Boothman