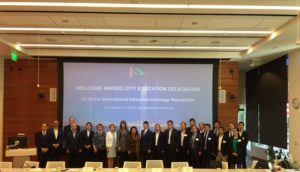 On September 27, 2018, the Washington State China Relations Council, in partnership with Northeastern University and Illuminate Global LLC, hosted a delegation from the city of Ningbo in Zhejiang Province for the US-China International Education Exchange Roundtable. The delegation included representatives from many areas related to education, including the Ningbo Education Bureau, universities, vocational schools, and high schools.
WSCRC was honored to invite a variety of representatives to speak about Washington State's educational system and its promotion of international programs, particularly educational exchange between the US and China. Washington State speakers included: Dr. Kurt Buttleman, Interim Vice Chancellor for Academic & Student Success at Seattle Colleges; Linda Du, International Programs Manager – China Specialist at Shoreline Community College; Denise Dyette, Primary Division Head at the Evergreen School; Patrick Erwin, Principal of Lincoln High School; Angela Dávila, World Languages Program Supervisor of Learning and Teaching at the Washington State Office of the Superintendent of Public Instruction (OSPI); and Scott Han, Assistant Director of International Marketing at Cascadia College.
Giving statements on behalf of the entire delegation, four speakers from Ningbo described the educational opportunities available for American students interested in studying abroad, as well as their efforts to promote exchange programs to the United States for Chinese students. The Ningbo delegation was led by Xuebo Fu, Counsel at Ningbo Education Bureau. Also speaking for the delegation were Wei Huang, Assistant President at Zhejiang Fashion Institute of Technology; Dinghai Shi, Principal of Ningbo Jiangshan High School; and Gang Wang, Vice Principal of Ningbo Economic and Trade High School.
The event brought together representatives to strengthen international ties between the US and China through education and exchange. Though there have been recent changes in the US-China relationship that have affected their institutions, both sides expressed willingness to cooperate on international efforts.
WSCRC extends special thanks to WSCRC board member Mary Trimarco, Business and Outreach Director at Northeastern University in Seattle as venue host.
Summary Author: Mengyao Liu