Organizers: Washington State China Relations Council, Snohomish County, Economic Alliance of Snohomish County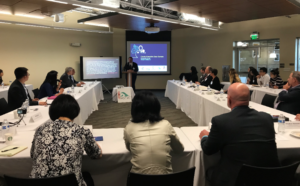 On June 22, 2018, the Washington State China Relations Council ("WSCRC"), Snohomish County, and the Economic Alliance of Snohomish County ("EASC") in collaboration with the City of Everett, Port of Everett and US-China Aviation Friendship Association jointly convened a roundtable at the Port of Everett on advanced manufacturing between the US and China. A delegation from the Investment Promotion Agency of the People's Republic of China's Ministry of Commerce ("MOFCOM"), as well as representatives from the Washington State Commerce Department and Snohomish County government offices and businesses, discussed ways to strengthen economic partnerships and future collaboration between China and Washington State. This was the first high-level meeting of its kind centered on trade, technology, and advanced manufacturing in Snohomish County. WSCRC President Mercy Kuo served as the roundtable moderator.
MOFCOM Machinery Department Director Ruochen Lin explained the rapid pace of China's economic advancement over the past couple of decades, focusing specifically on the country's infrastructure development and rising consumer demand. Charting the course of these changes using China's high-speed rail system and online transaction practices as examples, he encouraged further US investment  and market presence in the Chinese economy. He concluded his presentation by inviting Washington manufacturers to the China International Import Expo, to be held in Shanghai in November.
Snohomish County was represented well by County Executive Dave Somers, Mayor of Everett Cassie Franklin, Port of Everett Director Walter Siedl, District 3 Council President Stephanie Wright, and President & CEO of EASC Patrick Pierce. Washington State Department of Commerce was represented by ICT Sector Lead Joseph Williams. Their remarks covered the history of Snohomish County as a leader in international trade, as well as the welcoming environment for further partnerships between the US and China in the county. Leaders from businesses such as MTorres and UniEnergy Technologies, both based in Everett, spoke about their interest in working with Chinese companies and the global market for their products. After an informative Q&A session, representatives from Snohomish County exchanged gifts with the MOFCOM delegation.
Summary Author: Mengyao Liu