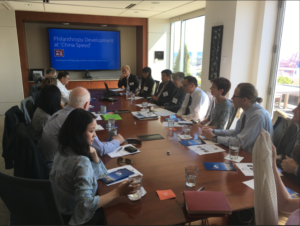 On July 10, 2018 the Washington State China Relations Council held a panel discussion on the growth of China's philanthropic sector. Three speakers affiliated with the Richard Rockefeller Fellowship, dedicated to fostering emerging Chinese leadership in the development of strategic philanthropy in China, detailed the rise of philanthropy in China and its global implications for the sector.
Emily Weaver, who manages the Richards Rockefeller Fellowship, discussed the development of the sector over the last decade and opportunities for future growth. Danxi Shen, a Richard Rockefeller Fellow and the deputy secretary general at Sany Foundation, remarked that the current generation of Chinese philanthropists pursue an "investment-oriented approach that yields tangible results." Oma Lee, a Richard Rockefeller Fellow and consultant, detailed the Domestic Charity Law and the INGO Law that have impacted China's philanthropic sector. Following their presentation, moderator Victor Kuo directed the conversation towards how these changes affect social innovation in the United States and around the world.
WSCRC welcomed a diverse array of attendees, including nonprofit leaders, business executives, and members of the greater Seattle area community. The wide-ranging perspectives of audience members made for a lively and informative Q&A session. WSCRC looks forward to future programming surrounding philanthropy and social innovation.
WSCRC extends special thanks to WSCRC board member Ada Danelo and Garvey Schubert Barer for hosting the panel discussion.
Summary Author: Mengyao Liu