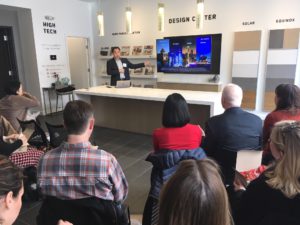 On March 7, 2018, WSCRC hosted the Corporate Executive Briefing Series at the Nexus Sales Center in Seattle. David Zhou, CEO of WSCRC Gold member IM2CHINA, shared insights into one of China's most powerful and versatile marketing tools with his presentation, "Marketing Your Business in China: The Tao of WeChat."
While WeChat is a part of daily life for over 720 million people around the globe, it is still unfamiliar territory for many US companies. David Zhou explained that WeChat has integrated the function of nearly all western media outlets into a single app. Consequently, WeChat has "invaded every part of life" in China, and 55% of users are on the app for two or more hours per day.
David's practical advice for leveraging the power of WeChat to expand your business included a discussion of account types, how to increase visibility, and how to calculate the "attractiveness score" of an advertisement or article. Careful attention to data is essential to utilizing WeChat successfully. "Be smart on WeChat; look at the data, look at subscribers and how many people are actually engaging with the material," David emphasized.
In conclusion David shared some points of concern that businesses might encounter, including sensitive areas in cross-border relations and how to select the marketing partner agency that best suits your business.
More than 25 attendees representing local law firms, medical practices and small and medium-sized enterprises attended the event.
Special thanks to Sotheby's Realogics International Realty for providing the venue.
Summary Author: Trudy Boothman