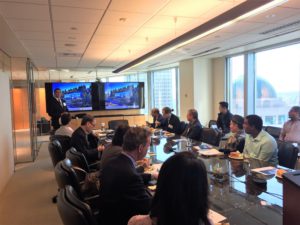 On September 27, 2018, the Washington State China Relations Council held the first session of its new Founders Forum series, featuring Ben Zhang, Founder of Greater China Industries. The WSCRC Founders Forum highlights leaders in US-China innovation in technology, entrepreneurship, and business. Participants contribute to a targeted, meaningful dialogue with a Founder/CEO working on the front lines of US-China relations. Discussions feature the trials and tribulations of starting a company, operating across cultures, and growing an international business.
Greater China Industries is a manufacturer and importer of custom original equipment manufacturer (OEM) product. The company sources product needs that range from simple orders of printed stickers to more complicated products, such as detailed injection molded OEM components used in manufacturing. Since founding the company in 1995, Ben Zhang has seen the company enjoy steady growth and demand for imported products. Speaking about his humble beginnings as an international student from China attending the University of Washington, Ben emphasized the importance of strategic vision and delivering high-quality products.
On the topic of US-China trade and its impact on his sector, Ben touched upon the growth of manufacturing in other countries in Southeast Asia. He noted that making connections with those markets was an important part of participating in the global economy. In response to a question about reticence towards "Made in China" products among prospective clients, Ben remarked, "When the rubber hits the road, a superior price point will win out." He also gave many examples of how dedicated service oriented towards the success of his client has shaped his business over the years.
The lively Q&A session addressed long-term trends in the US-China business relationship, as well as the experiences of Greater China Industries working with American and Chinese partners. In answering an audience question about distinction between clients and customers, Ben emphasized the importance of consistent service and face-to-face relationships in transforming one-time customers into returning clients. WSCRC President Mercy Kuo concluded the program and invited attendees to mingle over refreshments.
WSCRC extends special thanks to WSCRC board members Yuping Wang of Davis Wright Tremaine as venue host and Ben Zhang of Greater China Industries for furnishing refreshments.
Summary Author: Mengyao Liu