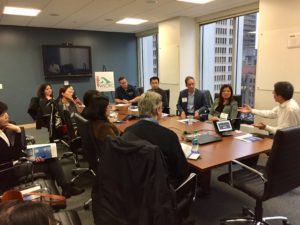 On October 31, 2018, the Washington State China Relations Council held a panel event titled "China Healthcare Business Directory Launch Event" featuring four expert speakers in the field of healthcare. China has the largest population of patients with increasing disposable incomes. As such, the demand for drugs, medical equipment, quality care and good practice has been higher than ever before. Given that China is one of the largest importers of goods from Washington, healthcare companies in Washington State are perfectly positioned to engage with the healthcare market in China. All four speakers provided key insights into this rapidly developing international sector, shedding light on future implications for US and Chinese healthcare providers.
Jing DiPiero is the Founder and CEO of DPR Consulting. DPR Consulting offers comprehensive medical solutions, such as medical education, healthcare training, telemedicine, consulting and collaboration to Chinese patients, medical practitioners, hospitals and various levels of government to innovate and improve healthcare service. Jing detailed the advancements that Chinese hospitals and medical practitioners have made over the last couple of decades, citing her extensive experience traveling between the US and China. She outlined the specificities of China's medical system, highlighting a preference for elite and well-recognized doctors.
Xinli Zou is the CTO of Wyzlink, a company that specializes in AR education, AR application, cloud safety and cloud computing. Xinli introduced his company, WyzLink, which is a Seattle-based leading VR/AR education platform and solutions provider with a focus on professional medical and nursing education. WyzLink was found by a group of believers who use AR/VR technology to change the world. They are building a Medical Simulation platform, which uses generated virtual medical environments, virtual medical equipment, virtual medical personnel and even the virtual patients to train the medical students or nursing students without jeopardizing patient safety.
Dr. Albert DiPiero is Co-founder and Chief Medical Officer of ZOOM+Care, a healthcare system with 36 locations in Portland, Oregon and Seattle, Washington. Dr. DiPiero has been board certified with the American Board of Internal Medicine since 1994. Detailing the differences between ZOOM+Care and other medical services provided throughout the US and China, Dr. DiPiero emphasized the importance of execution, as well as planning. He looks forward to future international opportunities, possibly in collaboration with Chinese entities.
Dr. Raymond Yeung, M.D., is a board-certified surgeon and founder of the UW Medicine Liver Tumor Clinic, the first clinic of its kind in the Pacific Northwest. He is also a UW professor of Surgery and an adjunct professor of Medicine, Medical Genetics and Pathology. Dr. Yeung highlighted the increasing sophistication of Chinese hospital and medical equipment, which he observed during a recent tour of selected facilities in China. Speaking about the differences in traditional Chinese medicine and Western medicine, Dr. Yeung provided a balanced analysis of each method for the audience.
The panel event provided a platform for audience members to engage in discussion topics ranging from China's evolving healthcare system, American health professionals working with Chinese counterparts, and the importance of healthcare as an industry in the overall relationship between the US and China.
WSCRC extends special thanks to WSCRC board member Jing DiPiero of DPR Consulting for furnishing refreshments.