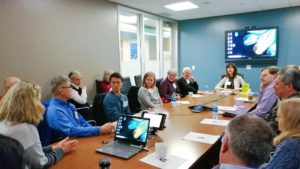 On December 17, 2018, the Washington State China Relations Council hosted a book talk with Barbara Finamore, author of Will China Save the Planet? Barbara is a senior attorney and Senior Strategic Director for Asia at the Natural Resources Defense Council (NRDC). She has nearly four decades of experience in environmental law and energy policy, with a focus on China for more than 25 years. In 1996, she founded NRDC's China Program, the first clean energy-focused initiative launched by an international NGO. In 2017, Barbara was named a member of Foreign Policy's "The U.S.-China 50," a group of 50 individuals who are powering the world's most complex and consequential relationship.
As the two largest economies in the world, the United States and China are also the world's two biggest emitters of carbon. While the Trump Administration has shown itself to be unwilling to address the threat of climate change, including questioning the basic science behind anthropogenic climate change, China sees itself potentially filling this leadership vacuum. China's ability to play this leading role in the fight against climate change is the central argument of Barbara's book. She elaborated her thoughts in four key areas:
Coal. China's rapid economic growth since the onset of economic reforms has come with major, nationwide pollution problems (air, water, and land). Air pollution has drawn the greatest attention. China's burning of coal is the largest single source of the CO2 emissions in the world, accounting for about 27% of world carbon emissions–about 80 percent of those emissions come from coal. It wasn't until 2013, when air quality reached unprecedented hazardous levels that the Chinese government started implementing a series of policies, technologies, and market mechanisms to curb coal consumption. Barbara applauded Ambassador Gary Locke, who was in attendance for the book talk, for his efforts to push the Chinese government to provide accurate air quality monitoring data in 2013 while he was serving as the Ambassador to China.
Renewable Energy. While taking various measures to curb carbon emissions, China has also invested massively in renewable energy, especially in wind and solar, and has become a global leader in this space. In 2017, China added nearly as much solar capacity as the rest of the world combined. Compared with the U.S. for the same year, for every dollar that the U.S. invested in renewable energy, China invested three. By 2030, China will have spent $6 trillion on renewable and clean energy. One of the biggest challenges, however, is the integration of renewable energy into the grid system. China's large-scale investments in renewable energy have brought down the cost of solar and wind globally by 80 percent over the last decade, and solar may become the cheapest form of power generation in five years.
Electric Vehicles. China is spearheading industry advancements. China has invested $58 billion since 2009 to support the development of electric vehicles, including subsidies, R&D, battery storage and charging stations. In 2017, 40% of the world's electric cars and 99% of electric buses were sold in China. There have been talks about phasing out internal combustion engines in China's newly manufactured vehicles, even though the Chinese government hasn't set a precise phase-out date yet.
Green Finance. China is emerging as a leader in green finance, a system that provides incentives to boost private capital investments in green projects. In 2016, China drafted the world's first comprehensive framework for green finance and launched a green bond market. It is now the world's second largest green bond market after the United States. China also co-chaired the G-20 green finance committee and played a leading role in forging international consensus in a green financial system.
In conclusion, Barbara pointed out that it is anything but easy for China to combat climate change. We've seen tremendous efforts, impressive outcomes, and reasons for hope, but the fundamental economic and political challenges that China faces in addressing this issue will continue to present challenges. China's future clean energy policy will largely rely on the central government's political will.
A lively Q&A session followed Barbara's book talk on opportunities and challenges China, the U.S., and the world are facing regarding climate change.
WSCRC extends special thanks to the author for furnishing refreshments. WSCRC is also honored to have Ambassador Gary Locke at the book talk and extends special thanks for his long-time support for the WSCRC and its work.
Summary Author: Man Wang