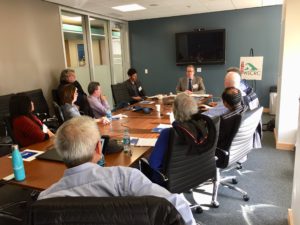 On October 11, 2018, the Washington State China Relations Council held the ninth session of the Policy Briefing Series featuring Benjamin Shobert, author of Blaming China: It Might Feel Good But Won't Fix America's Economy. In the book, Benjamin described American society as angrier, more fragmented, and more polarized than at any time since the Civil War. He identified deep insecurities about our economic future, our place in the world, our response to terrorism, and our deeply dysfunctional government as contributing to current trade tensions between the US and China. Benjamin is the Managing Director of Rubicon Strategy Group. He is also a Senior Associate for International Health at NBR, where he advises and contributes to NBR research programs on international health in Asia.
Benjamin argued that unless we address an array of domestic issues in the United States, a disastrous chapter in American life is right around the corner. Reflecting on the state of US-China affairs in the present day, Benjamin expressed concern that many Americans may decide that conflict with China is an avenue to secure their economic futures. After framing how the American public thinks about China, Benjamin offered two alternative paths forward. He also proposed steps that businesses, governments, and individuals can take to potentially stop and reverse America's path to worsening relations with China.
Addressing concerns regarding globalization's impact on the American economy, Benjamin emphasized that the US-China relationship matters because it has historically benefitted both countries. Citing examples from the twentieth century, Benjamin questioned whether commonly held assumptions such as the inevitability of peace, inter-connectivity breeding mutual reliance, and the folly of war prove applicable in assessing the US-China relationship. He explained how many of the issues raised during President Trump's 2016 campaign, particularly national anxiety about a rising China, are misplaced. According to the book, China has become an easy target for Americans to project their frustrations with the overall political dysfunction, economic difficulties, and foreign policy blunders since 9/11, much of which in fact has more to do with domestic problems in the United States than with China.
A lively Q&A session followed Benjamin's book talk. Questions from attendees addressed the possible policy implications following a US-China trade war, as well as the implications of further tariffs issued on imported goods from China. During Q&A, Benjamin cited his own experience traveling to China for the first time early in his career and his own learning process in the field.
WSCRC extends thanks to WSCRC Pearl Member Spencer Cohen for serving as moderator for the event.
Summary author: Mengyao Liu