Dear WSCRC Members and Friends,
Many of you have reached out to us to inquire how you might make donations of goods or cash to help support the community's fight against coronavirus. We have complied a list (below) of local organizations that we know who would welcome your support. We hope this list will make it easier for you to understand how you can contribute in these times of great need. The information compiled and presented above is based on our review of sources online. Please make sure to clarify specifics and details with any organization you might potentially support.
We'd like to point out that the Chinese Community in Seattle has been very active in raising funds and seeking donations to help our local hospitals. In particular the United Chinese Americans of Washington (UCAWA) and Chinese Chamber of Commerce of Washington State (CCCWA), in collaborations with other Washington based Chinese associations, are running fund drives to provide support to local hospitals (details are in the list below).
We are also working with our contacts to understand what medical products in China are available for immediate shipment to the U.S.. If you have sources of supply, we'd be interested in hearing from you so that we can pass on this information to our members as well as government agencies that are seeking such equipment.
We appreciate the compassion that our community is showing in this time of stress.
Stay safe (and wash your hands!).
Best Regards,
J. Norwell Coquillard, Executive Director
Man Wang, Director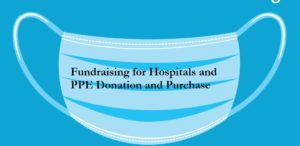 Government Resources
State of Washington
The State of Washington is working to identify needs and fill shortages, by soliciting bulk donations and purchasing from sources outside of normal contracts. The Department of Enterprise Services (DES) is leading this effort. The state is also coordinating with manufacturers that are willing to shift gears and repurpose their manufacturing operations.
For detailed information, please visit the State of Washington PPE Information Page: https://des.wa.gov/about/agency-overview/covid-19-information-%E2%80%93-des-guidance/personal-protective-equipment.
Some of the key information on PPE donation and purchasing includes,

A list of over 20 specific PPE and infection-control products identified by the Department of Health.
For bulk donations, donors need to download an Excel sheet from the link and send the completed form to PPEDonation@des.wa.gov.
For state purchasing, suppliers who have bulk amounts of any of the products listed on the page in stock and can deliver within 1-2 weeks can download a form from the link and send the completed form to the Department of Enterprise Services at DESContractsStrategy@des.wa.gov.

The Washington State Department of Commerce is working with companies that can alter operations to support this effort. Companies should contact the Department of Commerce at covidmanufacturing@commerce.wa.gov.
City of Seattle – King County
The City of Seattle and Public Health – Seattle & King County are joining forces to solicit donations.
Needed Supplies include new and unused N95, P100 and surgical masks, gloves, disposable gowns, eyewear, and more.
Donation Portals
Contact: PPEdonations@seattle.gov
Donation Items Collection

Upon receiving a donation through the form, City employees will follow up with the donor to determine the best route for drop-off or pick-up of donations. The City is partnering with Goodwill Industries in King County for picking up donations.
Starting March 21, 2020, the city will be able to dispatch Goodwill to providers to arrange for pickup services. If a donor prefers to drop off materials, a City employee will coordinate a date and time.
All supplies collected will be relocated to a centralized facility in the SODO neighborhood provided by a private company as a collection point.
Donating Directly to Hospitals/Hospital Foundations                
Seattle Children's Guild Association (Seattle Children's Hospital)
Monetary Donation Portal: https://www.seattlechildrens.org/giving/
Medical Supply Donation: accepting curbside drop off of unopened boxes or bags

Seattle Drop-off Location: Seattle Children's Guild Association Office, located within the Seattle Children's Administrative Building. Address is 6901 Sand Point Way NE, Seattle, WA 98115
Bellevue Drop-off Location: 1500 116th Ave. NE, Bellevue, WA 98004
Drop-off Time: 9am – 3pm, Monday – Friday
Call 206-987-7000 or 206-987-2153 upon arrival for staff to collect donation items
EvergreenHealth Foundation (Evergreen Hospital)
Providence Hospital
Overlake Medical Center Foundation (Overlake Hospital)
Accepted Items

Unopened packages of N95 and standard procedure masks
Unopened packages of disinfecting wipes
Unopened bottles of hand sanitizer
Unopened packages of gloves
PPE suites and gowns

Drop-off Location

Address: 1035 116th Ave NE, Bellevue, WA 98004
Approved donations will be directed to drive up to the Starbucks entrance on Swistak Drive and call the foundation at 425-688-5525 from their car. Foundation staff will meet donors an ask them to fill out a donation form.

Drop-off Time

9am – 3pm, Monday – Friday
Call the foundation for weekend drop-off
University of Washington Medical Center
Virginia Mason Foundation (Virginia Mason Medical Center)
Swedish Medical Center Foundation (Swedish Medical Center)
Other Foundations and Organizations
United Chinese American of Washington (UCAWA) Fundraising
UCAWA, along with 40 organizations in the region, aims to raise $140,000 by March 31, 2020 to EvergreenHealth Foundation to support the Evergreen Hospital in Kirkland. As of March 18, they have raised $43,948.
Chinese Chamber of Commerce of Washington State (CCCWA) Foundation
Monetary Donation can be made through,

Zelle: info@ccc-wa.org
ACH

Band of America
Account Number: 138127683476
Routing Number: 12500024

To donate medical supplies, please contact,
Mask4WA through gofundme
The goal is to raise $100,000 dollars to purchase masks (FDA approved KN95 and surgical masks) for frontline healthcare workers at the University of Washington, Swedish Medical Center, and Seattle Children's Hospital.
HUST Alumni Association of Seattle
Alibaba.com PPE site (for purchase)
Products are classified as surgical and non-surgical masks
In addition to statewide efforts to provide funds and supplies to health care industry, government agencies and local organizations are also working together to provide assistance to people, communities and business are severely impacted by coronavirus. The Greater Seattle Chamber of Commerce has compiled a comprehensive list of such resources and efforts that includes information listed below. For detailed information, please visit https://www.seattlechamber.com/home/membership/community-news/detail/2020/03/18/wegotthiswa?utm_source=Message+from+the+President&utm_medium=newsletter&utm_campaign=Coronavirus+Update+-+March+20
Emergency food assistance
Small Business Support
Housing and Rent Assistance that includes COVID-19 Rental Assistance Fund and Seattle Chamber's Housing Connector Program.
Support for groups that are lack of resources, including but not limited to residents without health insurance and/or access to sick days, residents with limited English language proficiency, Healthcare and gig economy workers, and communities of color. This effort is fund by the COVID-19 Response Fund at the Seattle Foundation https://www.seattlefoundation.org/communityimpact/civic-leadership/covid-19-response-fund
Support for art organizations and workers
Donate blood https://www.bloodworksnw.org/
In-kind donations of food, supplies, and furniture needed for the isolation, quarantine, and recovery sites that the County has set up and individuals in needs, including students and homeless.
The Seattle Chamber is also setting up a fund called the Keep Workers Safe and Healthy Fund.

The goal of the fund is to keep healthcare coverage intact for employees through April 2020, and to keep employees safe by reimbursing employers for janitorial services, protective equipment, and supplies.
Fundraising goal is $10 million. Please contact pledge@seattlechamber.com to make a contribution to this fund. The Chamber is working to set up a website to accept online contributions.