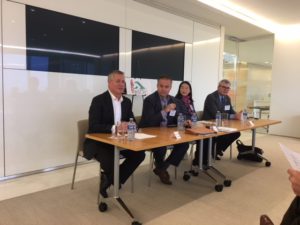 On November 15, 2017, WSCRC teamed up with Gold Member Huawei Technologies to host a discussion of "Evolving Trade and Investment Policies in the Digital Ecosystem" at K&L Gates Law Firm in Seattle.
The expert panel featured Dan Ikenson, director of the Cato Institute's Center for Trade Policy Studies, Joseph Williams, director of Economic Development for the Information and Communication Technologies for Washington state, and Michelle Zou, CEO of Pacific Technologies Consulting Group. Bill Plummer, Vice President of External Affairs for Huawei North America, moderated this informative briefing.
"Washington state understands technology," explained Bill Plummer while discussing Huawei's decision to select Bellevue, Washington as the site for its new Research and Development satellite. "ICT has become utterly borderless," Bill continued, "and utterly interdependent." His statement was substantiated by the diversity of persons in the audience—with backgrounds spanning from law to education to investment—who are invariably affected by the far-reaching influence of the ICT sector throughout the Seattle region.
Dan Ikenson's extensive study on digital trade issues has convinced him that the possibility of a US-China trade war looms if outdated policies continue to govern digital trade. However, he stressed that negative outcomes are avoidable and proposed solutions which are explored in-depth in his publication, "Cybersecurity or Protectionism? Defusing the Most Volatile Issue in the U.S.-China Relationship."
Joseph Williams concurred that, "There are no borders when it comes to advancement in tech." Mr. Williams has observed that certain policies which hinder globalization often stymie innovation, particularly in the recruitment of top-level ICT talent, in which regard he views Washington as an "import economy." He emphasized the criticality of developing intercultural understanding as a stepping stone to increased collaboration in advancing technology, which will benefit the entire region.
Michelle Zou was optimistic about the future of US-China tech relations, affirming that, "once everybody has a chance to put their goals on the table you really can reach a solution." Through her experience navigating tech companies in both the US and China, Michelle discovered the necessity of wearing the others' lens to seek out mutually beneficial solutions.
A networking reception followed the illuminating presentation and Q&A session.
Special thanks to and K&L Gates for providing the venue, to Huawei for co-hosting with WSCRC and to the panelists.
Summary author: Trudy Boothman