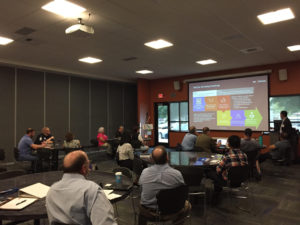 On August 15, 2018, WSCRC kicked off the Thurston County Economic Development Council China Business Series at the Thurston County EDC in Lacey, Washington. David Zhou, Founder and CEO of IM2CHINA  ̶  WSCRC Gold Member  ̶  shared insights into one of China's most powerful and versatile marketing tools with his presentation, "Marketing Your Business in China: The Power of WeChat." Thurston County EDC Executive Director Michael Cade and Grays Harbor EDC CEO Dru Garson gave introductory remarks on the importance of local engagement with international markets.
While WeChat is a part of daily life for over 720 million people around the globe, it is still unfamiliar territory for many US companies. David Zhou explained that WeChat has integrated the function of nearly all western media outlets into a single app. Consequently, WeChat is an essential part of everyday life in China, and 55% of users are on the app for two or more hours per day.
David's practical advice for leveraging the power of WeChat to expand one's business included a discussion of account types, how to increase visibility, and how to calculate the impact of an advertisement or article. Careful attention to data is essential to utilizing WeChat successfully.
David shared some points of concern that businesses might encounter, including sensitive areas in cross-border relations and how to select the marketing partner agency that best suits your business. He emphasized the importance of following a step-by-step digital marketing process.
Attendees representing local law firms, county offices and small and medium-sized enterprises attended the event.
Special thanks to Thurston County EDC for providing the venue.
Summary Author: Mengyao Liu