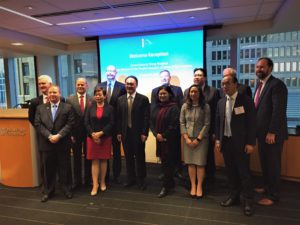 On October 29, 2018, the Washington State China Relations Council, in partnership with Greater Seattle Partners, hosted a welcome reception for Consul General Wang Donghua, newly appointed Consul General of the Consulate General of the People's Republic of China in San Francisco. Consul General Wang's delegation included Chinese diplomatic and business representatives.
The Honorable Gary Locke, former Governor of Washington and US Ambassador to China, gave opening remarks. He detailed the history of international exchange between the US and China that has taken place in Washington State. He elaborated upon current efforts to maintain economic and cultural ties through facilitating trade missions, delegations, and business connections. Discussing his own experience as US Ambassador to China, he emphasized points of commonality and opportunities for mutually beneficial relationships.
WSCRC Chair Andy Wilson introduced Consul General Wang, who has represented the People's Republic of China in Hong Kong, Macau, Kenya, India, Tonga and the United Nations. Immediately prior to his current position as Consul General of the People's Republic of China in San Francisco, Consul General Wang served as the Deputy Inspector at Office of the Central Commission for Discipline Inspection at the People's Republic of China's Ministry of Foreign Affairs. Following his introduction, Consul General Wang delivered a comprehensive keynote speech that examined trade tensions between the US and China, as well as looking forward to efforts to collaborate. Citing the cities on the west coast of the United States as strong supporters of the US-China relations throughout history, Consul General Wang encouraged continued strides in manufacturing, technology, and other industries.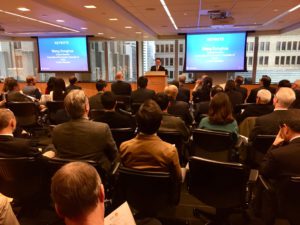 Nine distinguished government and business representatives from around Washington State gave welcome remarks at the reception. William McSherry, Vice President of Government Operations at Boeing and Chairman of Greater Seattle Partners, spoke about the strength of Boeing's partnerships in China. Schuyler Hoss, Director of International Relations and Protocol at the Washington Governor's Office, presented Consul General Wang with a landscape portrait of Mt. Rainier painted by Governor Jay Inslee. Mike Fong, Senior Deputy Mayor at the City of Seattle, emphasized the robust Sister City relationship between Seattle and the city of Chongqing in Sichuan Province. Fred Jarrett, Deputy County Executive at King County, encouraged further collaboration between Chinese and American businesses. Kendee Yamaguchi, Executive Director of the Snohomish County Executive Office, highlighted Snohomish County's status as a world-class manufacturing hub. Mike Fowler, Senior Trade Consultant at the World Trade Center Tacoma, reflected on President Xi Jinping's historic visit to Tacoma-based Lincoln High School in 2015. Dru Garson, CEO of Greater Grays Harbor, Inc., outlined Thurston County's international connections and annual trade missions to China. John Sternlicht, CEO of the Economic Development Alliance of Skagit County, highlighted Washington State's myriad economic and environmental resources. Ada Grant, Vice President of Inspur, detailed the challenges and triumphs of leading a China-based big data brand in the United States.
The event brought together nearly 100 attendees to strengthen bilateral cooperation between the US and China. After a group photo, the gathering commenced networking and exchanging information for future partnerships.
WSCRC extend special thanks to the Honorable Gary Locke and WSCRC board member Yuping Wang at Davis Wright Tremaine for providing the venue and refreshments.