Date/Time
Date(s) - 02/02/2021
6:00 pm - 7:30 pm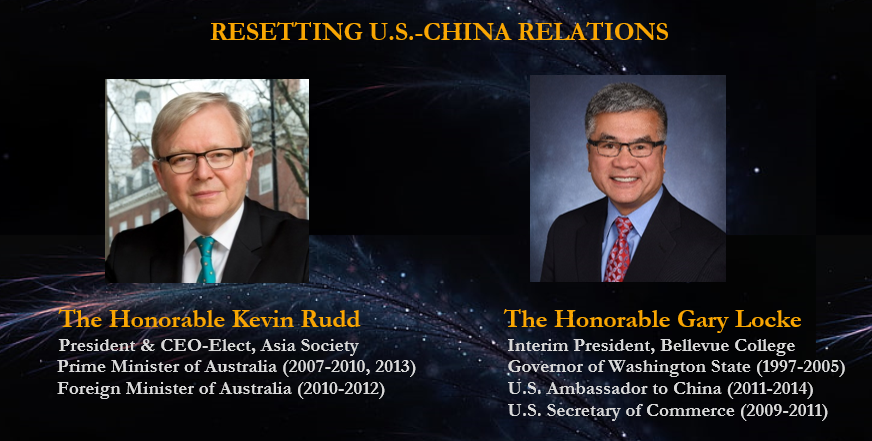 The Washington State China Relations Council, the oldest state level organization devoted to improving ties with China, will hold its 40th annual gala (virtually) on February 2, 2021. The event will feature internationally recognized China experts to share their insights and observations on the current state of U.S.-China relations and discuss ways that the new administration can "reset" the relationship.
The highlight of the evening will be a fireside chat between China scholar and former Prime Minister of Australia Kevin Rudd and former Washington State Governor and Ambassador to China Gary Locke.
In scheduled sessions leading up to and at the event, participants will have a chance to network with each other and enjoy pre-ordered Chinese meals from leading restaurants especially created for this occasion. These restaurants made generous donations to the Food With Love Program, a meal donation program to frontline workers and people who were experiencing food insecurity. As a proud co-organizer of the program, we'd like to use this opportunity to show our appreciation and support to some of these restaurants.
The Gala also presents an opportunity for attendees to learn about the charity arm of the Council, the Washington State China Relations Fund. The fund has been active working with the local Chinese community and the city and state governments to support the fight against Covid-19.
Pre-Gala Networking: January 28, 2021, 5:00 PM – 6:00 PM
Participants will be notified  of the networking event details after registration.
                          
Main Gala:  February 2, 2021, 6:00 PM – 7:30 PM 
Links for the Main Gala and the Pre-Gala Networking will be emailed to registered participants
one week before the event.
WSCRC Platinum and Gold members will be allocated seats per membership terms. Please contact Man Wang at manw@wscrc.org if you'd like to purchase meals for your guests.
Table Sponsorship
Tables (virtual) are available for $500 each.
For more Information, please contact Man Wang at manw@wscrc.org or 206-389-7204.
REGISTER HERE to Register for the Main Gala