Date/Time
Date(s) - 02/23/2018 - 02/25/2018
6:30 pm
Location
Amazon Arizona Building
207 Boren Ave N
Seattle, WA 98109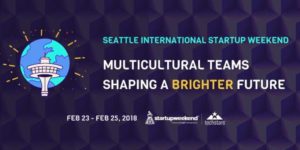 Find out more and register HERE.
Do you have an idea you'd like to pursue or a problem you'd like to solve but don't know where to start or who to start with? 
Techstars Startup Weekend is the place to look for a team, create a prototype of your idea, validate your business idea, and receive feedback from experienced entrepreneurs, all in one weekend.
What do you need to bring?
Lots of energy! You'll pitch your own idea or listen to others, then vote on the most interesting ideas and form teams with diverse skill sets. You can come with friends, but you'll get the full experience if you participate in separate teams. Remember, it's all about the team.
Your idea should be something you have not previously worked on. The idea you pitch and the problem you set out to solve can span social, educational, financial, environmental, or other issues. Over the course of the weekend you'll be challenged to create a prototype of your MVP, or minimum viable product, that fits the needs of your target customer. You'll get feedback, iterate, and likely pivot your approach entirely! Important: You cannot have worked previously on your idea.
Techstars Startup Weekend is a full weekend long experience. Your ticket includes:
7 full (and delicious) meals over the course of the weekend
Benefits and discounts from our global partners
One-on-one time with amazing mentors
A new network of developers, designers, and entrepreneurs eager, like you, to change the world.
All the internet and coffee you can consume.
Who are the organizers?
Members of our team come from more than 8 different countries, work in different industries – business, diplomacy, education, finance and tech – and share this common passion in entrepreneurship.
Should I belong to the expats or international community to join this event?
No, the event is open to everyone. It is like a regular Startup Weekend, with a specific focus on mingling members of the international community in the Seattle area with their Seattle counterparts.
Is there a particular theme?
No, the theme is general.
Still have questions, feel free to reach us at "seattleinternational@startupweekend.org".